BJP's blown away, Manmohan has his say,

CAG smells a scam, Run as fast as you can.

Coal Blocks, Spectrum locked,

Games can, feed the flock.
In June 2009, Congress came back with a much larger seat tally than was expected. Markets hit an upper circuit. The last time in 2004, it had hit lower circuit, when Congress was poised to form a government with Left support. But in 2009, Singh was truly King again. He got his nuke deal with US. Left was blown away. So were BJP and Advani. Modi was still biding his time in the wings, to emerge on the national stage.
2010 was a quiet year politically. Business as usual. In sports (cricket) IPL was becoming popular. Kieron Pollard and Shane Bond were the most expensive players at the auction going at $750k a piece. The Rupee was still around 44 to the $. CSK won the tournament defeating Mumbai Indians in the final. However, a storm was brewing as the Common Wealth Games, begun in Delhi, in September 2010, under accusations of payoffs and bribes
In Bollywood, the biggest hit of the year, collecting Rs. 250 cr at the box office, was Dabbang which also saw the debut of Sonakshi Sinha. A star today, Ranveer Singh also debuted in Band Baja Baarat, which was also quite a hit. However, a movie that went un-noticed was a movie with a cheesy title – Teen Patti, featuring Amitabh Bachchan and Ben Kingsley along with Shradha Kapoor making her debut. Bachchan plays a professor who cracks a probability formula, and then his students persuade him to test his theory in Mumbai's underground poker dens. . It was a rip off of the hollywood movie "21" starring Kevin Spacey. "21" was inspired by the true story of the MIT Blackjack Team as told in "Bringing Down the House", the best-selling book by Ben Mezrich.
Only about 2% of the Indian population invests in equities. And most of retail investors invest on shallow research, tips from their brother in law and other such sources. Fewer have a process, and even fewer have it written down. So a movie about probability theory and poker dens (or the Indian version, "teen patti") had a pretty low probability (pun intended) of doing well. Quant investing's bedrock is the law of large numbers. And has many similarities to poker and probability theory. But I digress. Time to return to Aks Capital.
It was the best of times. It was the worst of times.

A Tale of Two Cities – Charles Dickens
2008 was one of the worst periods in global financial markets since 1929. And in 2009 everything recovered but most investors were still suffering from PTSD. In 2010, our young associate at Aks Capital, Rahul Mehta, was about to start implementing the model for the prop fund. He had also taken special permission to run his own portfolio the same way as the prop fund. Although with some changes.
MIDAS Goes Live
On 1st Jan 2010, the program, called Project MIDAS (Multiple Input Diversified Alpha System), went live. Signals would be generated on Friday's closing data. And that list would be examined on Monday and executed on Tuesday's opening prices. By Jan month end Rahul's portfolio (lets call it MIDAS (R)) looked like this:

Markets took a breather from the frantic action in 2009 and went sideways for the first quarter of 2010 but started picking up in April by which time the portfolio was up 6%. But it was July by when markets resumed their rally and the portfolio moved by to 19%. And after that it never looked back.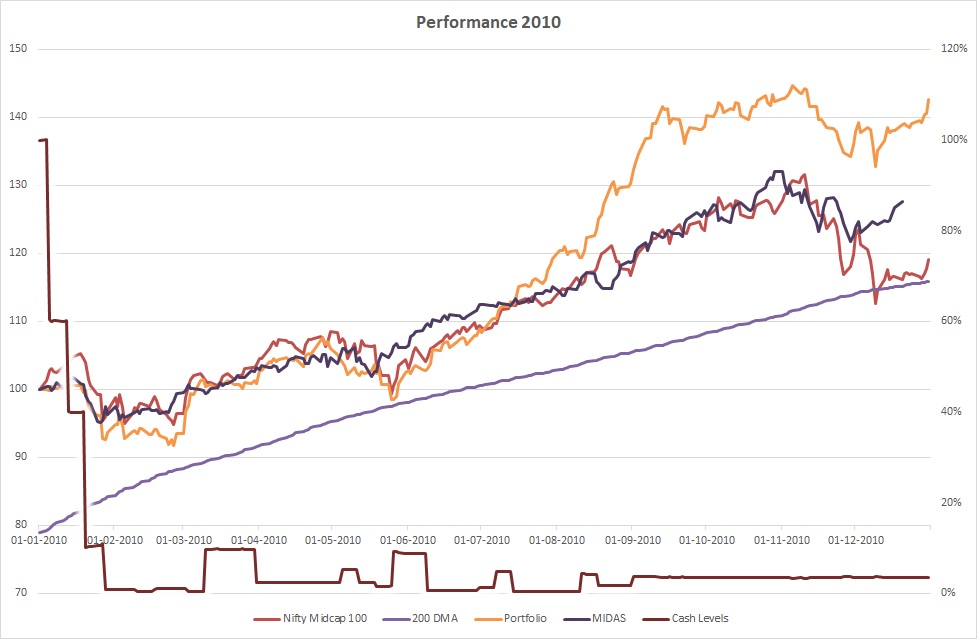 MIDAS and MIDAS (R) were both close to their all time highs even though the MidCap index took a bit of beating and was trading close to its 200 DMA by the end of 2010. Cash levels were also at their lowest at around 3%.
The year end portfolio was as below: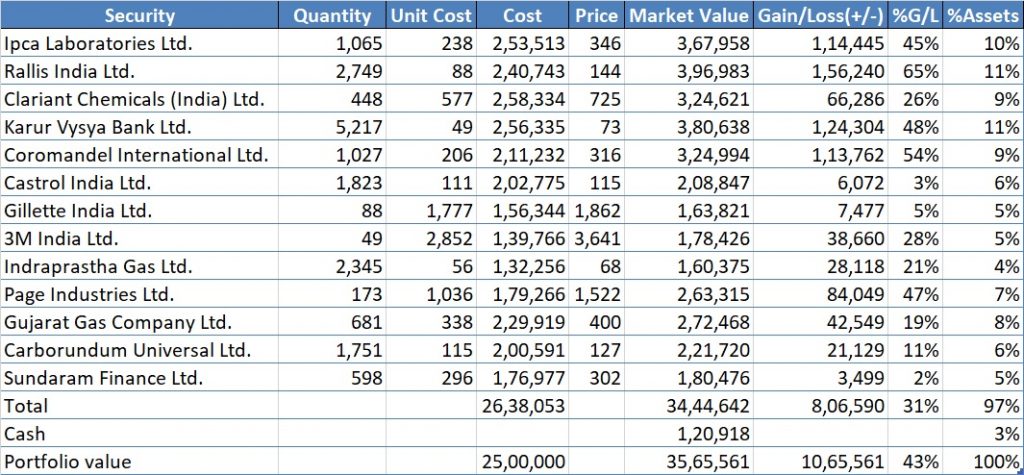 Portfolio – MIDAS (R) – Dec 2010
Now let us look at some performance analysis of the year gone by. MIDAS (R) generated 38 buy signals out of which 27 were winners and 11 were losers. Out of the 27 winners, MIDAS (R) was still holding on to 13 of those at year end. This is what the closed and open position distribution of trades taken during the year looked like.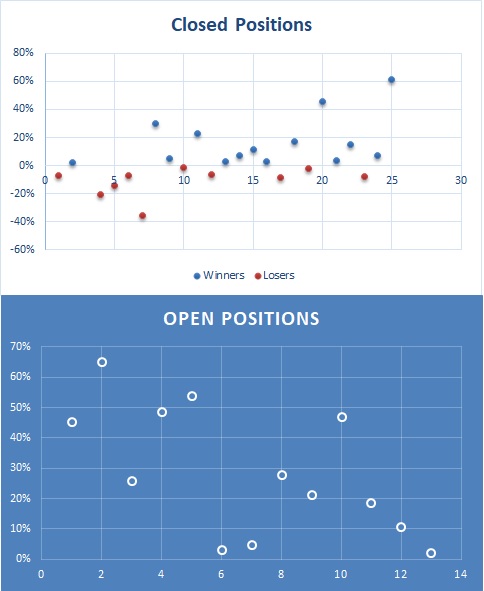 Winners and Losers Distribution
Midas (R) and MIDAS both beat the benchmark with better risk parameters. Had Aks Capital really got their midas touch back with MIDAS or did they just get lucky? Rahul had a good year personally and so did the firm. Investors were eager to increase allocations to this fund. More requests were coming in to the investor relation teams to meet the fund manager and team managing the portfolio. But in reality there was no fund manager. It was MIDAS.

Year 2010 Performance
(With inputs from Aayushi Shah)
Disclaimer: Nothing in this blog should be construed as investment advice. This is purely for educational purposes only.  Please consult an investment advisor before investing.